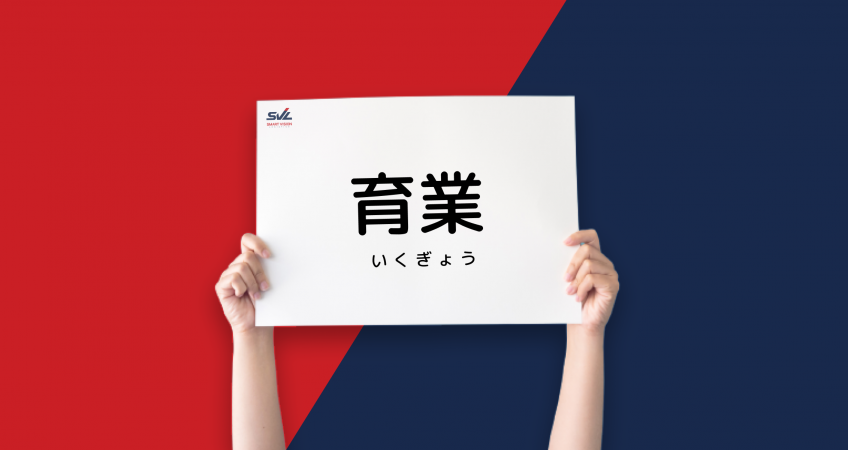 The terminology around raising children in Japan can be considered complicated. And it would be fair to say that from our own experiences and those of others we know, taking time off to raise children in this country can come with a lot of unrightfully negative and hurtful connotations.
At SVL we believe that our company and others have a duty to inform our employees about both maternity and paternity leave and support them fully during these stages in their lives. The fact that this often doesn't happen in Japan is a huge issue and one which we plan to work with the Tokyo Metropolitan Government and the Governor of Tokyo Yuriko Koike on reviewing and correcting these situations and policies.
The previous term used for child rearing was ikuji kyugyo (育児休業). Ikuji means "child rearing," and so ikuji kyugyo is when a new mother or father takes parental leave. The issue is, however, that the individual kanji for this term mean: raising, child, rest, work. Governor Koike takes issue with the connotation of the word "rest" here as raising children is certainly not resting. So she, with our wholehearted support, came up with the new term "ikugyo" (​育業) which uses the kanji for "raising" and "work." Koike is quoted as saying, "Parental leave is not, by any means, a vacation. Child rearing is the important job of caring for the ones who will carry the future. In addition to 'work,' gyo also has the meaning of expending effort to achieve something."
We would like to consider this post as, ostensibly, an open letter to Governor Koike and her team and to confirm that we will give her our total and unwavering support in highlighting the issue of paternal leave for all employees. Koike's position to modernize and bring Japan in line with other progressive countries is something to be admired and a social policy that SVL will continue to support.
Many of you will be familiar with Glen Wood's own fight over the past five years or so to gain justice and shed light on his case against paternity harassment at his former place of work. His appeal has been placed with the Tokyo Labor Commission and every day he is still committed to raising awareness for those harassed in their workplace and against a rigid work culture that penalizes and shuns parents for taking time to raise their children, something that Japan desperately needs to support to reverse its rapidly decreasing birth rate. To put simply, if Japan continues to stigmatize parental leave then employees will be reluctant to start families and the future of the country and its social structures will disintegrate and have very serious implications for the future.
SVL as a progressive and supportive company will continue to support Koike and to help spread the word that corporations and corporate culture should follow the letter of the law and to reinforce the idea that parenthood is one of the most important jobs any human can ever undertake. SVL fully promotes paternity leave for all employees and we have many success stories in this area of our business with some employees returning to work happily after parental leave. Happy people and happy employees make for a positive and encouraging company, something we will continue to stand by and support.