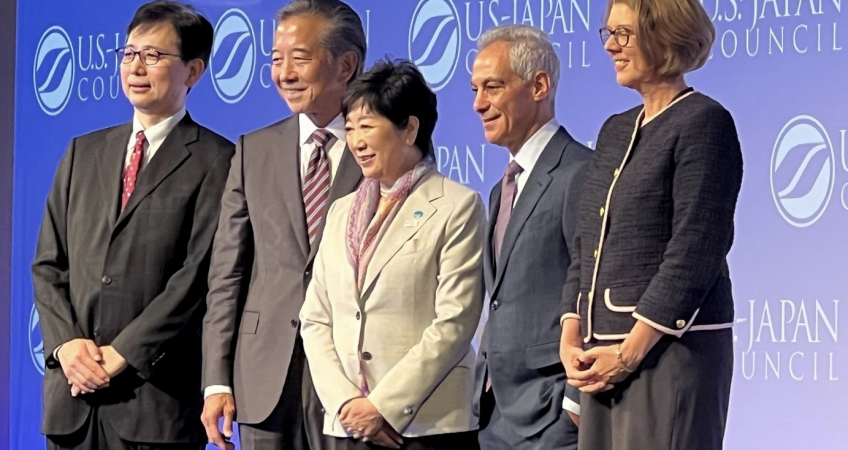 We take connectivity and strengthening relationships very seriously here at SVL. We've been a member of the US-Japan Council (USJC) for two years now and we were delighted to have the opportunity to attend the council's annual conference (the first iteration since Covid) on October 27 and 28 at the Cerulean Tower Tokyu Hotel in Tokyo.
The council is of vital importance to us as it shares similar goals and aims to SVL including adherence to the United Nations' 17 SDGs, empowering women and promoting female leadership and sustainability and environmental concerns and protection. Ostensibly, USJC develops and connects global leaders to create a stronger US-Japan relationship and an organization whose members believe people-to-people relationships are a powerful way to bring together leaders in the US and Japan to address and create solutions to mutual concerns.
This year's USJC conference theme was "The Great Reconnect: Strengthening Alliances, Partnerships and Communities" with the aim of bringing together regional, national and international leaders from diverse geographic and professional backgrounds to share their insights. Centered around the talking points of climate and sustainability, which are issues very close to the hearts and minds of the SVL team, the conference was an informative and great way to meet old friends and new and discuss issues which are of immediate importance to the society and world in which we live.
One of the points that we're proud of is that although SVL is a relatively small-mid-sized logistics firm, we were happy to attend and contribute to the conference alongside some big names from the world of industry. Some of the speakers included Rahm Emanuel (US Ambassador to Japan), and David Ige (Governor of Hawaii) and Jun Sawada (President & CEO at NTT Corporation). One of the names on the morning plenary session that we were delighted to see was Governor of Tokyo, Yuriko Koike, someone we are looking forward to working closely with on a number of initiatives in the near future.
Some of the topics discussed at the conference included "The Sustainable Future of Transportation," "Leadership and Mental Wellness" and "Women's Leadership – Journeys and Lessons." All of these topics and discussions are central to the ethos of SVL and we were humbled to be part of this broader discussion whilst sitting at the same table as major industrial, political and economic leaders.
A vital aspect of being part of the US-Japan Council for SVL is to, over time, become more involved, expand our network and friendship within this particular community in addition to leveraging our membership to work and shine light on issues that SVL cares about and feels need more recognition. We believe that going forward this is very much possible and that SVL can be a leader and promoter of the issues that we deal with on a daily basis.
At the conference we were very happy to join some of SVL's close partners and friends including:
Royanne K. Doi, a Corporate Governance specialist who serves on the council board
Chris Vilburn, head of APAC Stewardship at Goldman Sachs and a long-time ally of SVL,
Jennifer Hirano, a Business Development Analyst who serves on the board of councilors at USJC
Kay Makishi – Chief Growth Officer at Beyond Trucks 
Christine Pilcavage who serves as MIT-Japan Program Managing Director at Massachusetts Institute of Technology (MIT).
It was a real pleasure to spend time with and work alongside these friends at the conference and strengthen our bonds over mutual interests and concerns.
SVL is looking forward to developing our ties within the USJC community over the years to come and already anticipate next year's conference with plans and aims of a better future and prosperous partnerships.